Tips for Camping with Your Dog
This post may contain affiliate links for your convenience. Read our disclosure policy.
Thinking of taking a camping trip with your pooch? Check out these tips and tricks for camping with your dog so you both can get out and enjoy exploring the great outdoors.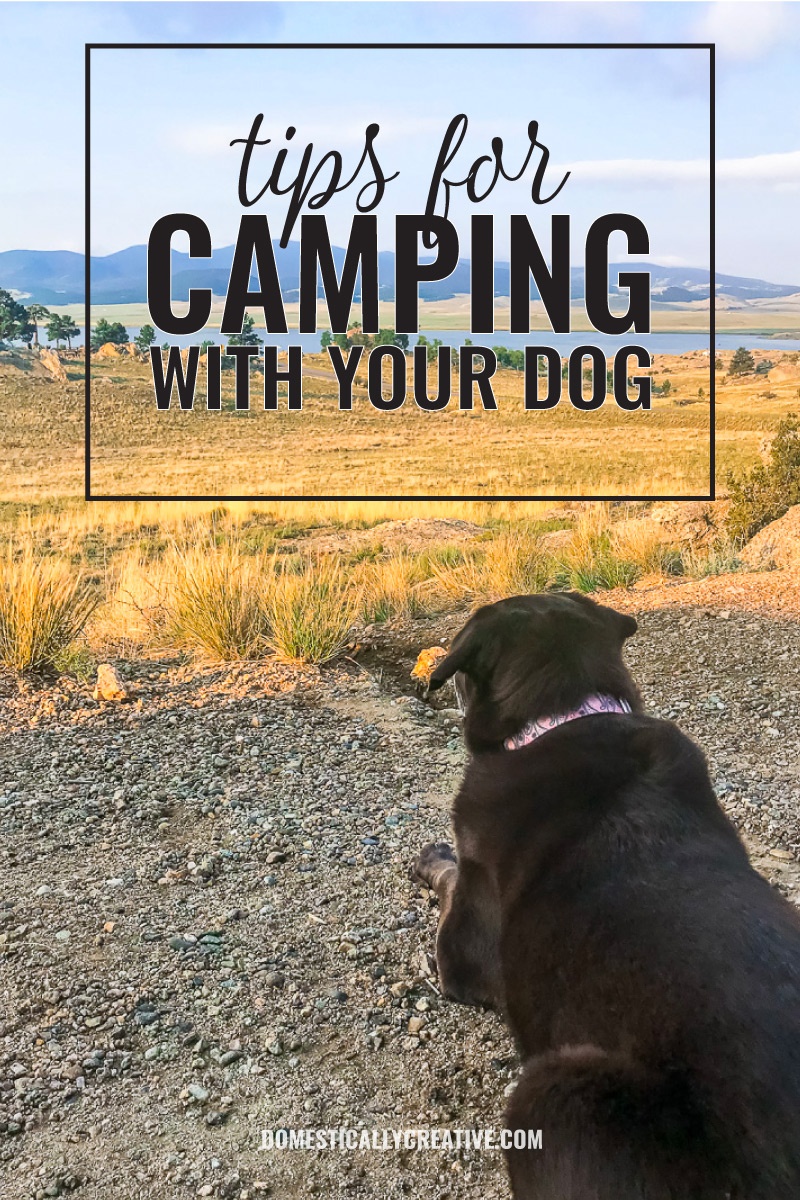 My husband and I love to go camping, and what makes it even better is taking our almost 10 year old dog, Delilah, with us. Not only is camping great for seeing and exploring new places, but it's cheaper than staying in a hotel! Hotels are expensive as is, but tack on the pet fee and they can be downright ridiculous.
Campgrounds vary on pricing anywhere from $15 depending on location and amenities. Most campgrounds also allow your four legged companion to tag along at no additional cost. Just be sure to follow the rules of the campground when it comes to your pet.
>>>Read Also: Must Have RV Camping Gear<<<
Delilah has checked off quite a bit of the United States just by camping with us in the last few years. So far she has been to Texas, New Mexico, Kansas, Colorado, Utah, Nevada, Wyoming, and Nebraska. Of course, she's traveled to many others just in the car, but hey let's stick to camping right? We have South Dakota, more of Wyoming, Montana and Idaho in the plans for this Fall too!
You can see that we've been camping with our senior gal several times, and have learned some tips and tricks when it comes to camping with your dog.
Tips for Camping With Your Dog
Do your research before showing up to a campground with your dog
Make sure wherever you plan to stay allows dogs. This may seem like a no brainer but hear me out. There are a lot of State and National Parks that will allow your dog in the campground, but not allow them to go anywhere else including hiking trails. In fact, most National Parks are like this, and if you plan to backpack in to camp with your dog, forget it.
I may have learned this the hard way on our recent trip to Utah. We stayed at a gorgeous State Park campground that I reserved online. The campground allowed dogs and that was all that I really looked at. Well once we got there, we realized that Delilah was allowed to walk around the campground on the paved roads, but that was it.
She couldn't go on the dirt walking trails throughout the campground, couldn't walk near the water in the marina, and most definitely could not go on the hiking trails or beaches. Luckily she's a senior gal so she didn't miss doing those hikes, but she was very upset that she couldn't go for a swim (her favorite!).
Update your dog's registration and get a check up before camping
Before you head out make sure your pup is current on their well-check and vaccinations. This is also a good time to make sure their microchip information is current and their collar tags are up to date. You never know what could happen when you are camping with your dog.
It's also a good idea to bring a copy of your pet's medical record from your Veterinarian and any Rabies licensing if needed. Some campgrounds will require you to show proof of vaccination(s). Don't forget to give their Heartworm and Flea/Tick Preventative before leaving!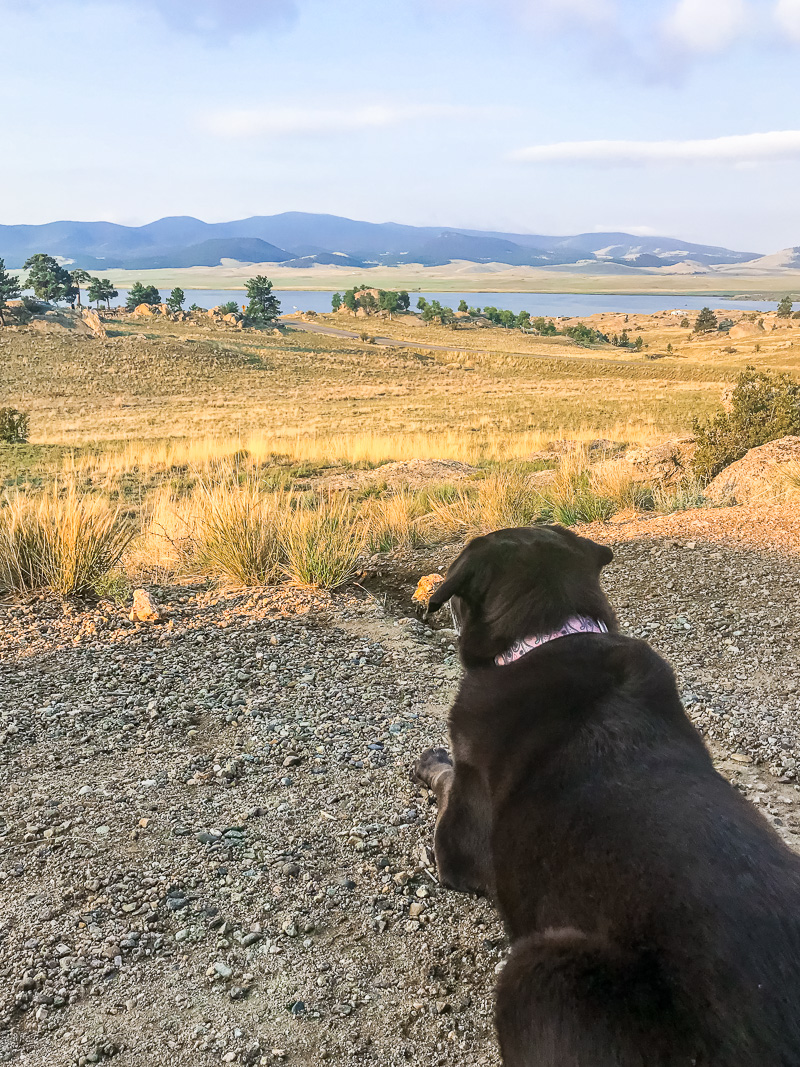 Pack the right provisions for your dog when camping
What you have room for may differ from tent camping, to RV camping, but these are the supplies I always bring when we are out camping with Delilah. You may also want to snag our Free Printable Camping Packing List before heading out.
Bring Plenty of water
We always carry a water bottle for each of us and an extra for Delilah, and we use this fabric fold up bowl. It's so nice for on the go because it folds up small, but it's also great for using in our truck because it doesn't tip over.
Food and Bowls
Depending on how long we will be gone, I will either use a gallon ziplock bag, or this plastic cereal container to store her food in. I also use old plastic tubs for her food and water bowls, but these travel bowls are great for those short on space!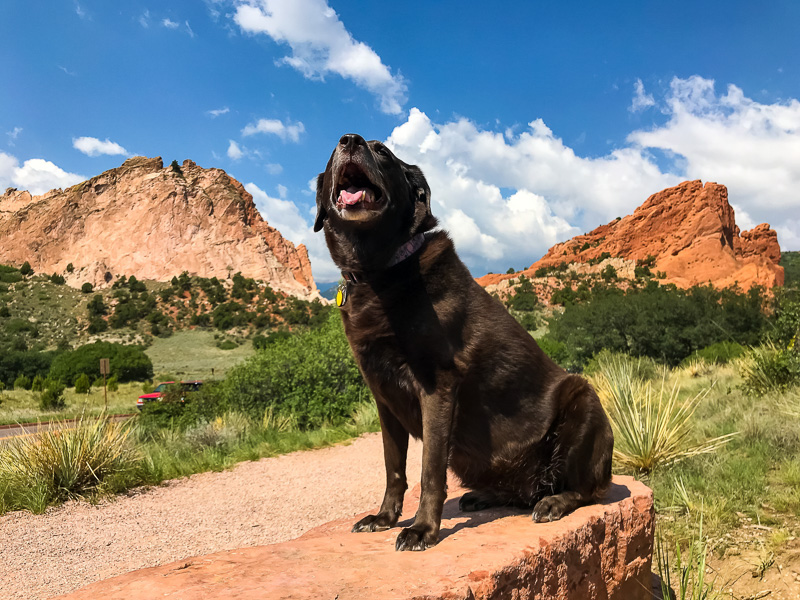 Leash, collar and waste bags
You'll need a collar, leash and maybe even a tie out for your dog at the campsite. Make sure you are picking up your dog's waste too! This handy bag dispenser clips onto the leash so you don't forget them when it's time for a walk.
Bring a Dog Bed
I already mentioned that our girl is a senior so we always bring a comfy bed for her. If you have the space, a comforter or a foam pad is a great option that can fold up compactly. There are even options for dog sleeping bags! Check out this DIY travel dog bed tutorial from Gluesticks Blog.
Going a long with the bed, I make sure to have somewhere for Delilah to lie outside that is easier on her elbows and knees like an outdoor mat. Not only does it keep us from tracking a bunch of dirt inside the trailer, but it's comfy enough for Delilah to lie on and keep clean. Although, as you can see in the photo below that she will lie right next to it in the dirt instead. Oh well, mama tries!
Medications
If your pup is young, you may not have medications that he or she will need daily. However, our girl has some arthritis and joint problems so she has a daily regimen. Using a daily medication dispenser is a great way to save on space because you aren't lugging around all of the bottles.
Towels
Delilah loves to swim and is insistent that she gets into any body of water when we are camping, so we always need a towel to dry her off with. There is nothing worse than having a wet or muddy dog crawling into your tent or RV with you!
Brush/Comb
This isn't just for keeping your dog's coat shiny and tangle free while camping, but comes in handy if they come across any cockleburs. Dog shampoo is always a good idea to bring too just incase your pup gets into something really dirty or stinky.
Make Sure You Have a Dog First Aid Kit for Camping
You can purchase a handy first aid kid on amazon that has some of the basics, but I would also recommend asking your Veterinarian what they suggest. Keep in mind that different climates and areas will have their own sets of concerns.
We do a lot of camping out West, so Delilah gets the Rattlesnake Vaccine, which doesn't protect her from the venom but does buy us some time to get to a Veterinarian. I also make sure her kit has some Benadryl to give her if she has an allergic reaction to stings or bites. The AVMA has a great list of first aid items to consider keeping in your kit.
Practice Good Camping Etiquette and Follow the Campground Rules
Be a good neighbor. Keep your dog leashed while you are camping, even if they are the best behaved dog on the planet. We are all pretty biased when it comes to our pets, but all it takes is one distraction for your unleashed dog to take off through the campground. It could cause injury to either your pet, other wildlife, or people. Just keep them leashed to be safe.
We use a long cable for Delilah that hooks to a carabiner on our trailer. You could use a tie out stake as well, or if the picnic table is good and heavy or in concrete, wrap the cable around a leg. If you have a smaller dog, these corrals are a great idea!
If you have a dog that constantly barks at unfamiliar people or anything in general, be sure to really really work with them before your trip. You may also consider that maybe they aren't the best camping buddy, as it may cause unwanted stress to both you and your dog, not to mention your neighbors.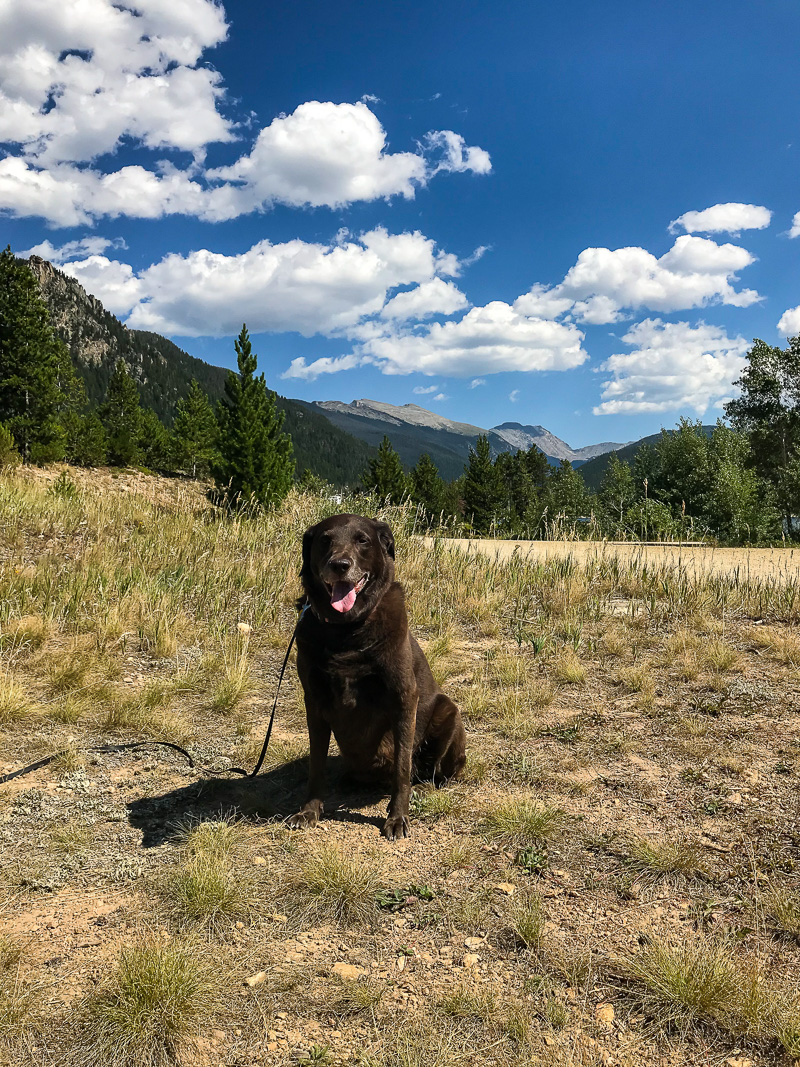 Brush up on their training before camping with your dog
The "leave it" command is one of the first commands we ever taught Delilah and even 10 years later, I still use it frequently. It usually gets yelled out when I drop a piece of food on the floor while cooking! Teaching your dog "leave it" is great if you encounter snakes or other wild life while camping with your dog.
It's also a great time to make sure your recall command is fail safe on the chance your dog gets away from you on a trail or in the campground.
Go for a trial trip
If this is your first time camping with your dog, then consider going out on a trial run with them. Find a close campground and consider spending a night before a longer trip. This will help you iron out any wrinkles, and give you an idea how your dog will act. You can read all of the tips on the internet, but sometimes just doing it is the best way to learn!
Do you go camping with your dog (or cat)? If you do I would love to hear from you and know what tips you have to make camping trips even more fun.
More tips for camping:
More dog friendly posts:
Don't forget to pin it!