White Chocolate Christmas Puppy Chow
Traditional muddy buddies recipe made with a twist in this white chocolate Christmas puppy chow recipe with M&M's. It's a great Christmas movie snack to enjoy for the holidays!
This post was originally written and published in December 2015 but has since been rewritten and updated.
Some of you know it as muddy buddies, but I've always referred to the delicious chocolate peanut butter snack as puppy chow. Chocolate and peanut butter are melted together to coat Chex cereal. Then the coated cereal is tossed in powdered sugar to create a sweet, and highly addictive, snack recipe! For this version, I used only white chocolate and added some festive red and green M&M's for a Christmas puppy chow twist.
Since today's festive Christmas idea is all about Christmas movies, I decided that this white chocolate Christmas puppy chow recipe is a great idea to share! You can make a batch and have a great Christmas movie snack for all of this season's binge-watching.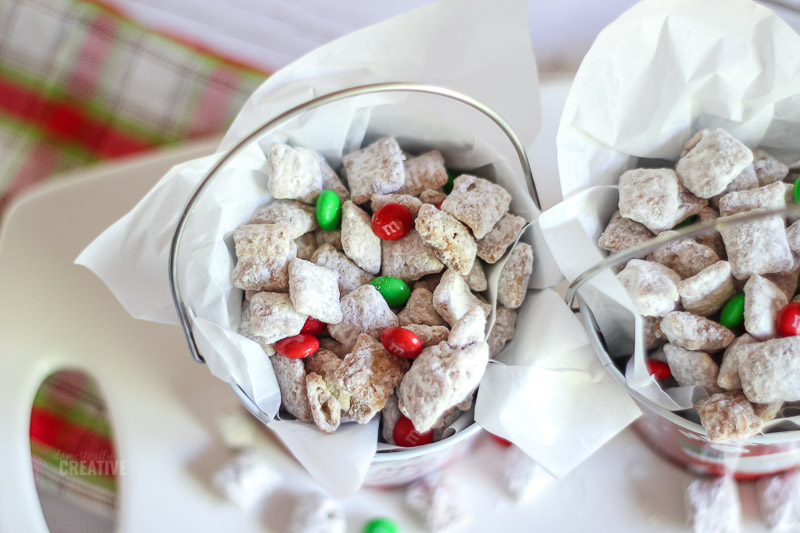 I remember as a kid how my mom would make puppy chow in huge batches as a snack. She always saved the large ice cream tubs and would store puppy chow or muddy buddies in those tubs. With that thought in mind, I picked up these adorable little Christmas tins which are the perfect size to carry around. Mini ice cream tubs if you will 😉 Transporting them from the kitchen to the couch to watch Christmas movies will be a cinch!
The best part about snacking on a handful of this Christmas puppy chow is finding a large chunk of the Chex cereal pieces stuck together and coated solid in the white chocolate and peanut butter mix. Bonus if that handful has some M&M's in it!
Here are some more holiday recipes just for you!
More Festive Christmas Movie Ideas
Don't forget to pin it!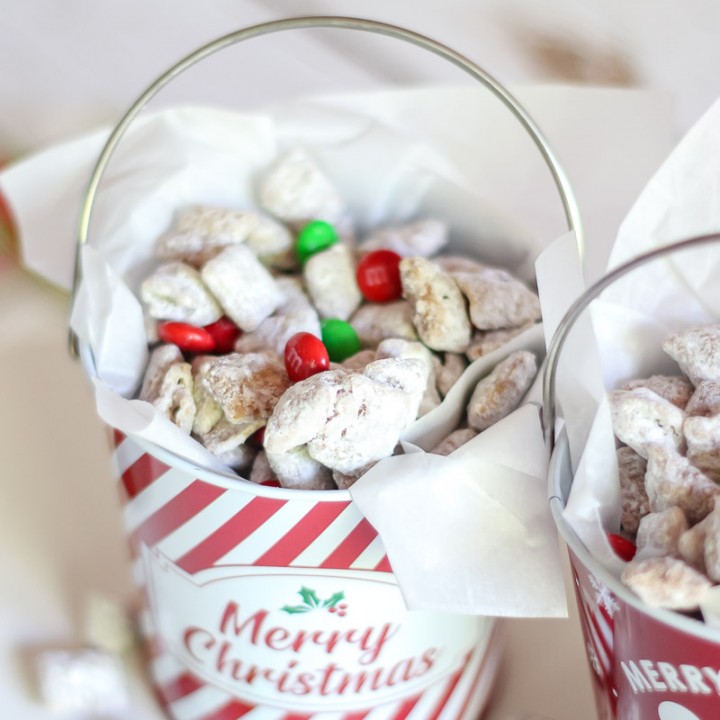 White Chocolate Christmas Puppy Chow
White chocolate Christmas Puppy chow or Muddy Buddies is a fun twist on a traditional snack for the holidays!
Ingredients
1 1/2 cups white chocolate chips
1/2 cup creamy peanut butter
1/2 cup butter, (1 stick)
7 cups rice chex cereal
2-3 cups powdered sugar
1 cup holiday M&M's
Instructions
In a large microwaveable bowl, melt chocolate chips, peanut butter, and butter in the microwave at 30-second intervals until completely smooth. Be sure to stir well between each interval.
Place rice Chex cereal in a large bowl.
Pour melted chocolate over cereal and stir carefully until all cereal is coated.
In a gallon size Ziploc bag, add 1/2-3/4 cup powdered sugar. Add 1/4 of the chocolate-coated cereal. Seal the bag and toss to coat.
Repeat the above process until all cereal is in the bag and coated in powdered sugar.
Gently shake in m&m's.
Serve immediately, or store in an airtight container in the fridge.
Nutrition Information
Yield

14
Serving Size

1/2 cup
Amount Per Serving
Calories

516
Trans Fat

0g
Nutrition values are automatically calculated by third-party software using global standards. Please note that values can vary based on product brands and different nutritional calculators. The values stated here are only for a basic reference and are not evaluated by medical or nutritional professionals.